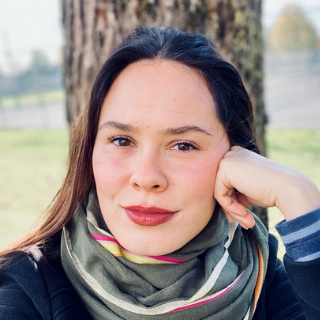 Master of Arts (MA) – On Campus, 3rd year
April 6, 2021
Tell us about your experience in this program so far.
This program has been a great experience for me so far. I feel lucky to get to work with my supervisor, the professors and students in my cohort, and to take classes and study the things that are important to me as an early childhood educator. I would definitely recommend this program to those who want to build on their pre-existing teaching approach or conduct research with young children. In this program, I've learned so much about the complexity of honouring and centring children's voices through both academic and activist work in ECE.
Why did you decide to pursue further education in Early Childhood Education?
I wanted to apply my previous knowledge of working with children as a nanny by learning more about what research with young children could accomplish in terms of social change. Halfway through my degree, I have now been certified as a classroom ECE Assistant! Being in this program has confirmed my understanding about how wonderfully varied and essential ECE is for children, families and communities.
Why did you decide to pursue an education at UBC?
I completed my Undergraduate degree at UBC in 2018 and didn't feel that my time at this beautiful campus was up! Plus, this program is only one of 3 like it in Canada (the other options being Ryerson and UVic). Doing both programs at the same institution has helped me to feel a strong sense of belonging and involvement in UBC's campus community, and I'm grateful for the relationships that have been strengthened by doing a Masters here too.
What advice would you have for new grad students and those considering pursuing education in ECE?
My biggest advice for new grad students would be to prioritize your mental health, build this program to meet your own needs and interests in ECE, and communicate with your supervisor as much as you can!
What do you love most about the field of Early Childhood Education?
I love that play is a big part of ECE and I love how much I learn from the children I meet, care for and work with.