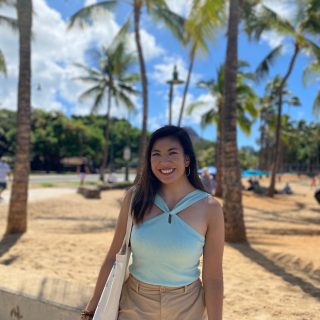 Master of Arts (MA) – On Campus, 2nd year
February 14, 2023
Tell us about yourself and your experience at UBC so far.
My experience in the MA program has been nothing short of inspiring, supportive, and educational! From the incredible professors and supervisors to my fellow students, my first couple of years in the program have been some of my favourite within my academic career. The MA in ECED program has provided me the opportunity to expand my interests in young child development, while also furthering my knowledge on the essential need for early childhood education and programming.
Why did you decide to pursue further education in ECE?
My personal interests have always been in working with and alongside young children. When I envisioned my career path, I knew that my future employment should be focused on children, whether that be through teaching, advising, or research.
This led me to pursuing an education at the University of British Columbia where I majored in Psychology with a focus on Infancy, Childhood, and Adolescent development, and minored in Family Studies.
Upon completing my undergraduate studies, I knew I wanted to continue my education specifically on young child development and wanted to find an avenue that allowed me to contribute my own voice and research into the field of early childhood. The MA program in ECED was the perfect fit for my goals, and I am fortunate enough to be continuing my long-term educational and career goals all at UBC!
Being born and raised in Vancouver, it had always been my dream to become a UBC student. Aside from the beautiful campus and high academic reputation, UBC also has some of the smartest and kindest minds within its walls.
UBC's MA program allowed me to continue my academic interests I had formulated during my undergraduate degree and was the first choice for me when I began to think about Graduate schools that aligned with my personal and academic goals.
What advice would you have for new grad students and those considering pursuing education in ECE?
A piece of advice that I could offer new graduate students and those considering pursuing higher education in early childhood is to be open to new challenges and expanding your areas of interest.
The MA in ECED program offers students the great opportunity to challenge their current ideas on what education is and how to better reform policy and pedagogy to our continuously changing world. Through the graduate level courses and conferences, the learning never ceases, and it is something you should be open to jumping into head-first!
What do you love most about the field of Early Childhood Education?
What I love the most about the field of early childhood education is getting to work with young children and having the opportunity to assist them in reaching new developmental milestones. Young children are active and knowledable learners and having even the smallest role during this pivotal stage in their life, is the most rewarding part of working and operating within this field.